Product Description
Shipping Policy
Product Reviews
Specification: 100g, 120 bottles / piece
Product Features:
     The special fiber texture can be changed arbitrarily.
    Medium styling creates a perfect, natural-looking line, suitable for avant-garde hairstyles that require gloss and messy effects.
    This product is used on dry hair.
    Enhance hair texture and gloss, and experience the appearance of a lot of fibers.

    It is suitable for short-level hairstyles that require gloss and messy effects without putting too much burden on the hair.
    This cream is soft brushed and does not have strong support. It can also be used for curly hair or hairstyles with moist gloss.
    The hair of the girl is scratched, and it is a little sticky, with a sense of layering and a good line.

 

Instructions:

On dry hair, take a small amount and rub it on the palm, melt it in the palm and apply it on the hair.

 

Detailed usage method:

1. Use hair mud when the hair is clean.
2. Wash your hair and dry it with a hair dryer. If you want a cooler look, you must
      Blow your hair until fluffy.
3. Remove a small amount of mud on the palm and rub in a circular motion. Try to keep it on your fingers (this will make it easier to
      Mud is better rubbed on the hair), then gently rub on the hair, try to rub on the root
      And not just the surface of the hair.
4. The next step is to start styling your hair. According to the effect you want, start styling your hair.
      To stand up, you can spread your fingers, insert your fingers towards the scalp, and then
      Lift the hair up and up, do it several times, and arrange the corners of the hair according to your requirements.
      degree.
5. If you want a wisp of effect, you can apply mud to your hair tips. Rub with your fingers a few times,
      Can become a hedgehog head.

6. If the hair is so long as to make it stand up, it must be combined with hair spray to shape it. This keeps the effect going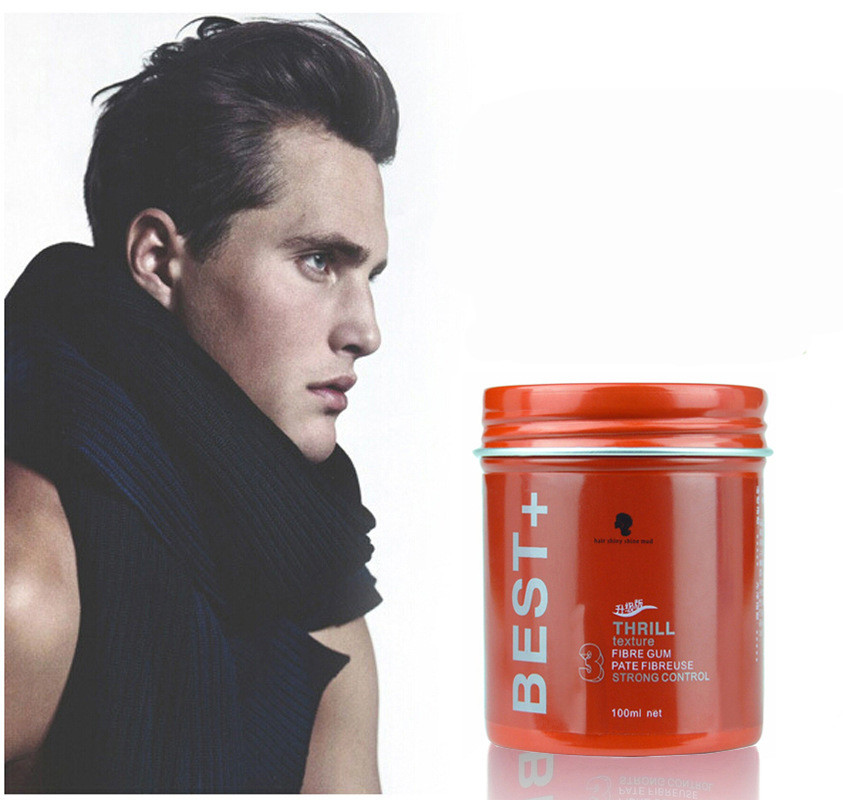 Shipping cost is based on weight. Just add products to your cart and use the Shipping Calculator to see the shipping price.
We want you to be 100% satisfied with your purchase. Items can be returned or exchanged within 30 days of delivery.
We want you to have the best experience possible and enjoy shopping with us. For most orders, please allow up to 21 business days for delivery but below outlines further specifics surrounding shipping time frames for different parts of the world. We use this time frame as a precaution to ensure your order delivers in time, but in most cases orders arrive before the maximum time frame.
If you have any questions, issues or need assistance with tracking your order please use the 'Contact Us' link at bottom of this page. We will respond within 24 hours to your email. Tracking information is available within 4-5 business days from the day we sent you the tracking code.
Estimated delivery time to US: 10-14 business days
Estimated delivery time to Mexico: 12-15 business days
Estimated delivery time to Australia & New Zealand: 10-15 business days
Estimated delivery time to Canada: 9-16 business days
Estimated delivery time to U.K: 10-16 business days
Estimated delivery time to Europe and surrounding countries: 12-17 business days
For Rest of the World International Orders Please Allow anywhere from 14-25 business days
ADJUSTABLE LIGHT INTENSITY IN GEARS
Our IPL permanent painless laser epilator is equipped with five gears adjustable light intensity to ensure gentle but effective treatment. You can adjust it according to your basic skin color.
LIGHT PULSE
Our IPL permanent painless laser epilator has two flashing modes to meet your hair removal needs for different parts. One is for small areas, such as bikinis, underarms, lips, or other more sensitive areas, and another is for large areas, such as arms, legs, and back.
INHIBIT HAIR GROWTH
The pulsed light penetrates the epidermis and reaches the hair follicle, making it gradually shrink when exposed to light and heat, which will accelerate the process of natural hair shedding and inhibit its growth.
TINY AND PORTABLE
Our epilator is tiny in size and light in weight, and you can use it anytime, anywhere. There is no more worrying about not being able to go to the salon for hair removal before your date. You can also take it with you when traveling or on business to show your perfect self at all times.
IPL (Intense Pulsed Light) is an innovative light-based technology that works by breaking the hair re-growth cycle. It emits gentle pulses of light beneath the surface of the skin that targets the melanin in the hair follicle. The melanin heats up and the hair is shed naturally. With continued, periodic use, the light energy helps prevent unwanted hair from reaching the skin's surface and re-growth is permanently reduced.
You don't need to use anything after treatment. If you'd like, feel free to use your moisturizer, cream, or skin care product of your choice.
You are supposed to use it once a week for 8-12 weeks, then once a month for maintenance.
Our epilators are absolutely safe to use and are actually effective against ingrown hairs, however we wouldn't recommend them for use over irritated skin such as razor bumps.
You can shower after, no irritation. You'll want to make sure the area is freshly shaved and no products on your skin when you do the laser.. no lotion, deodorant, etc.
I used it on my daughter and she is brown skinned. It worked.