Product Description
Shipping Policy
Product Reviews
Description:

Mokeru Beard Oil contains precious natural plant essential oils made from argan oil, jojoba oil and other natural oils. It has moisturizing, softening, removing whisker dandruff, improving dryness and messy beards, providing nutrients and relieving skin itching caused by beard growth and breastfeeding. The skin of the beard root.

Function: (nourish the beard, make it smooth, shiny, dense, reduce dandruff, provide nutrition, help grow a beard, smooth and nourish)

1. Sustainable moisturizing to prevent skin flaking, dandruff and dryness.

The beard oil acts as a moisturizer that reaches the hair follicle directly, preventing the hair from becoming brittle and preventing the natural moisture of the beard from being reduced under severe weather conditions. Moisture around the area helps prevent flaking, dandruff and dry skin.

2. Promote the growth of whiskers.

Beard oil can promote the growth of whiskers and make them denser.

3. Make the beard softer and smoother.

Beard oil can also be used as a finishing tool to make the beard itself easier to handle, fresh and smooth.

4. Make the beard more shiny.

Beard oil can also improve the appearance of the beard by giving it a little shine, making the beard healthier.

 

Features:

Non-greasy, fast water absorption, unique luster throughout the day

1. Make the beard healthier and thicker.

2. Make the beard softer and smoother.

3. Easy to use and save money.

4. Suitable for all types of beards.

Instructions:

1. Shake well before use.

2. Apply a proper amount of beard oil on your palm.

3. Apply by hand and spread evenly on the beard.

4. Use regularly.

caveat:

1. Avoid contact with eyes.

2. For external use only, do not use on damaged skin.

3. Avoid contact with children.

4. Store away from the sun.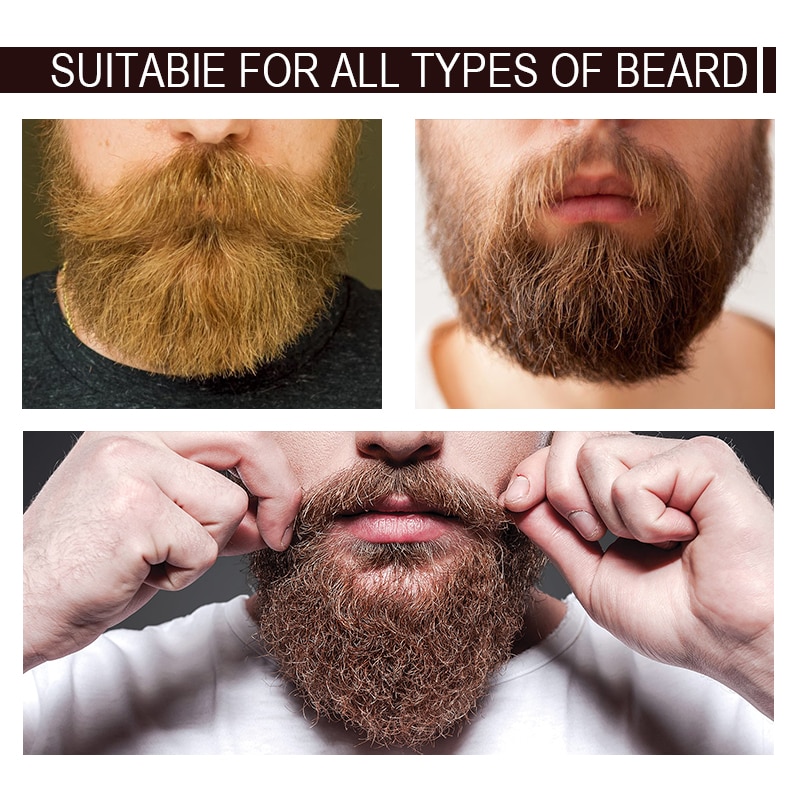 Shipping cost is based on weight. Just add products to your cart and use the Shipping Calculator to see the shipping price.
We want you to be 100% satisfied with your purchase. Items can be returned or exchanged within 30 days of delivery.
We want you to have the best experience possible and enjoy shopping with us. For most orders, please allow up to 21 business days for delivery but below outlines further specifics surrounding shipping time frames for different parts of the world. We use this time frame as a precaution to ensure your order delivers in time, but in most cases orders arrive before the maximum time frame.
If you have any questions, issues or need assistance with tracking your order please use the 'Contact Us' link at bottom of this page. We will respond within 24 hours to your email. Tracking information is available within 4-5 business days from the day we sent you the tracking code.
Estimated delivery time to US: 10-14 business days
Estimated delivery time to Mexico: 12-15 business days
Estimated delivery time to Australia & New Zealand: 10-15 business days
Estimated delivery time to Canada: 9-16 business days
Estimated delivery time to U.K: 10-16 business days
Estimated delivery time to Europe and surrounding countries: 12-17 business days
For Rest of the World International Orders Please Allow anywhere from 14-25 business days
ADJUSTABLE LIGHT INTENSITY IN GEARS
Our IPL permanent painless laser epilator is equipped with five gears adjustable light intensity to ensure gentle but effective treatment. You can adjust it according to your basic skin color.
LIGHT PULSE
Our IPL permanent painless laser epilator has two flashing modes to meet your hair removal needs for different parts. One is for small areas, such as bikinis, underarms, lips, or other more sensitive areas, and another is for large areas, such as arms, legs, and back.
INHIBIT HAIR GROWTH
The pulsed light penetrates the epidermis and reaches the hair follicle, making it gradually shrink when exposed to light and heat, which will accelerate the process of natural hair shedding and inhibit its growth.
TINY AND PORTABLE
Our epilator is tiny in size and light in weight, and you can use it anytime, anywhere. There is no more worrying about not being able to go to the salon for hair removal before your date. You can also take it with you when traveling or on business to show your perfect self at all times.
IPL (Intense Pulsed Light) is an innovative light-based technology that works by breaking the hair re-growth cycle. It emits gentle pulses of light beneath the surface of the skin that targets the melanin in the hair follicle. The melanin heats up and the hair is shed naturally. With continued, periodic use, the light energy helps prevent unwanted hair from reaching the skin's surface and re-growth is permanently reduced.
You don't need to use anything after treatment. If you'd like, feel free to use your moisturizer, cream, or skin care product of your choice.
You are supposed to use it once a week for 8-12 weeks, then once a month for maintenance.
Our epilators are absolutely safe to use and are actually effective against ingrown hairs, however we wouldn't recommend them for use over irritated skin such as razor bumps.
You can shower after, no irritation. You'll want to make sure the area is freshly shaved and no products on your skin when you do the laser.. no lotion, deodorant, etc.
I used it on my daughter and she is brown skinned. It worked.